Keep Britain Tidy is an independent environmental charity. The organisation campaigns to reduce litter, improve local places and prevent waste.
#BinTheButt
This is a behavioural change campaign to get UK smokers to rethink how they dispose of their cigarettes. Throwing a cigarette butt down the drain can see them ending up in our seas and oceans, harming marine wildlife as they contain plastics and harmful chemicals.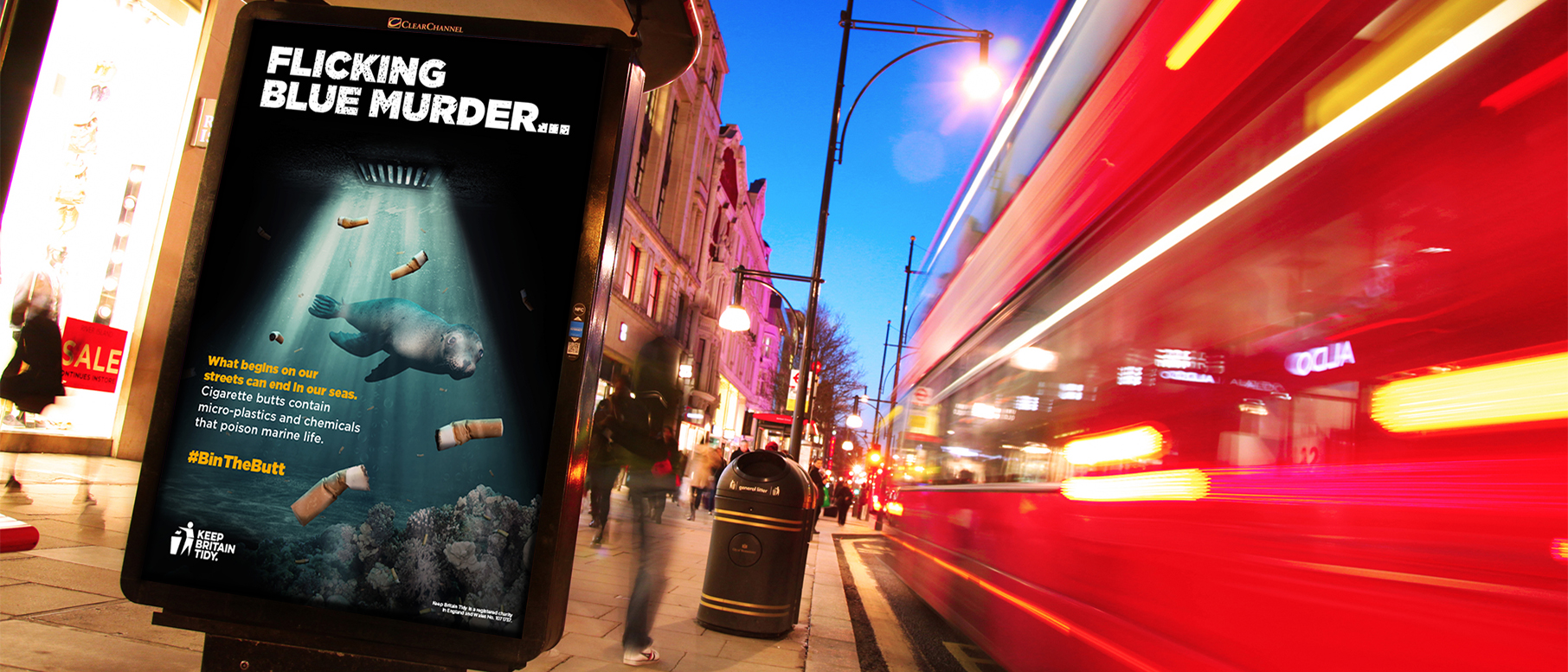 The brief
Keep Britain Tidy came to us asking if we could create a full campaign including gorilla marketing, video, posters and messaging. For this project, our job was to help highlight their goal and spread their message to reduce cigarette litter by educating the public about exactly what harm that litter can do.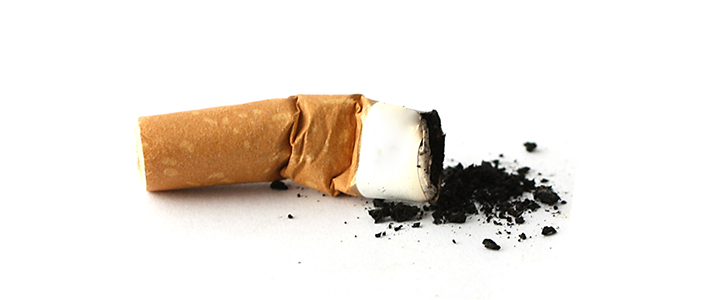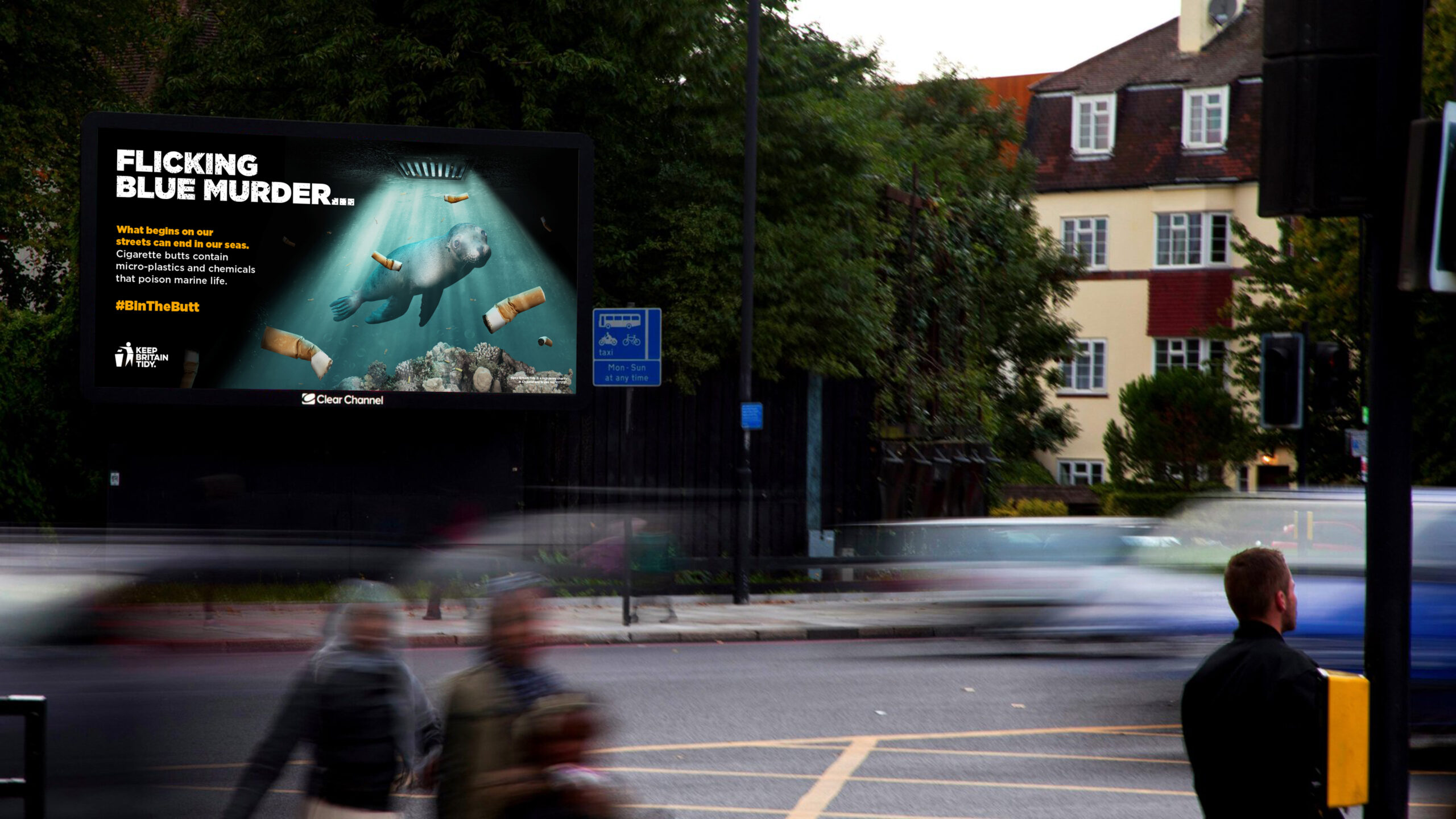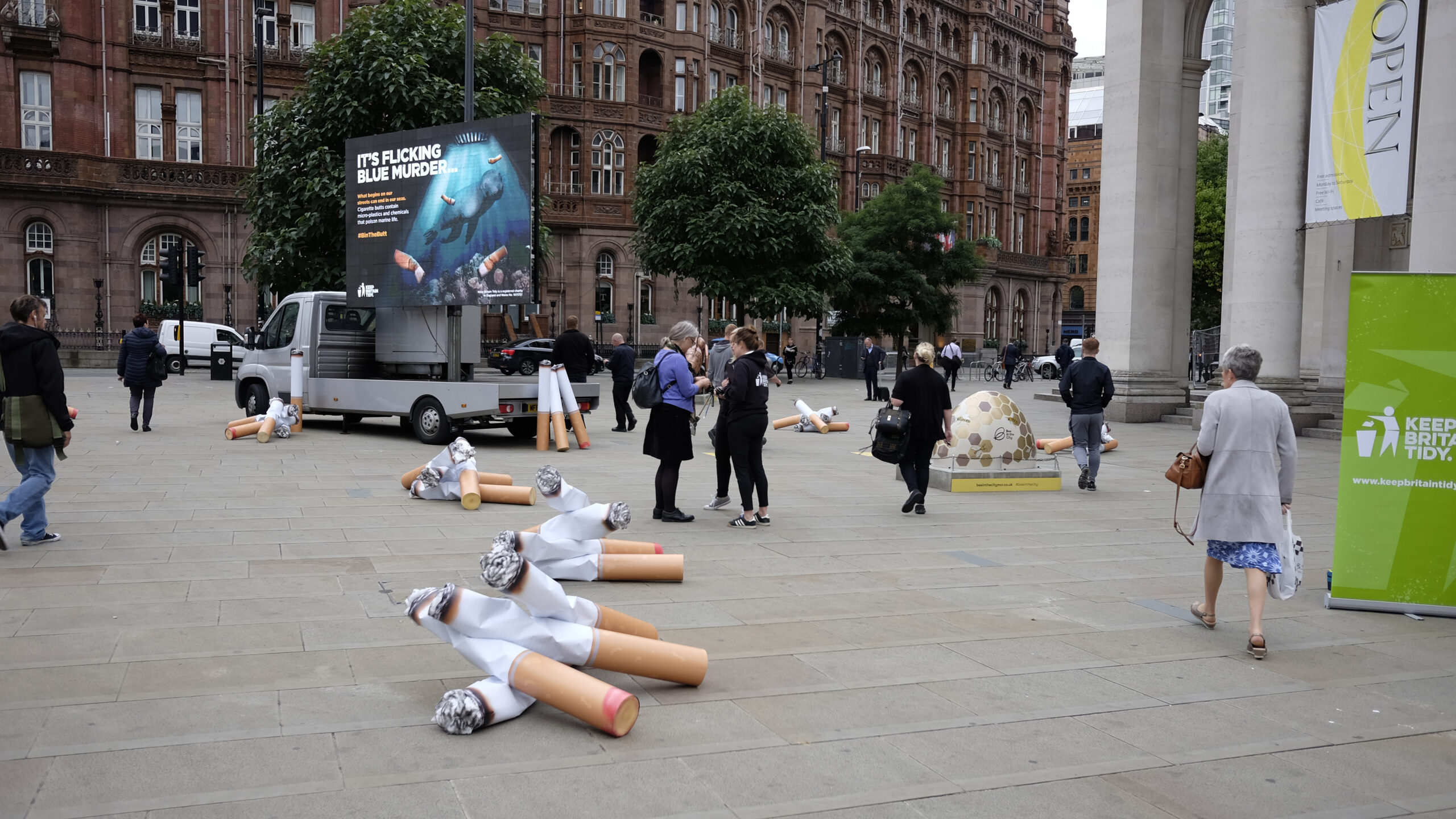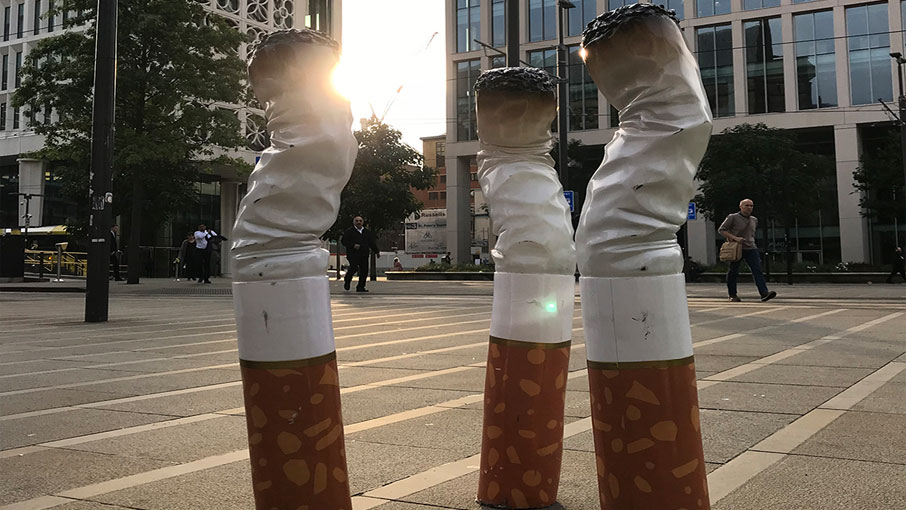 Our approach
We had great research on this project, KBT had produced in depth quantitive research sampling over 2000+ smokers and we were quick to pick through it looking for the headline stats and intersection points that would make for our strategy and messaging ideas. Based on that we quickly decided this campaign needed a shock tactic. Conventional messaging just wouldn't get through.
We agreed to develop two campaign ideas that could be A/B tested amongst a small sample group of audiences. Our initial work on this was to set out and complete rough scamps and potential headline messaging to support the campaign. These were received well internally with KBT and the creative progressed to prototype advertising with quite finished art direction to help set the correct tone for our test audience.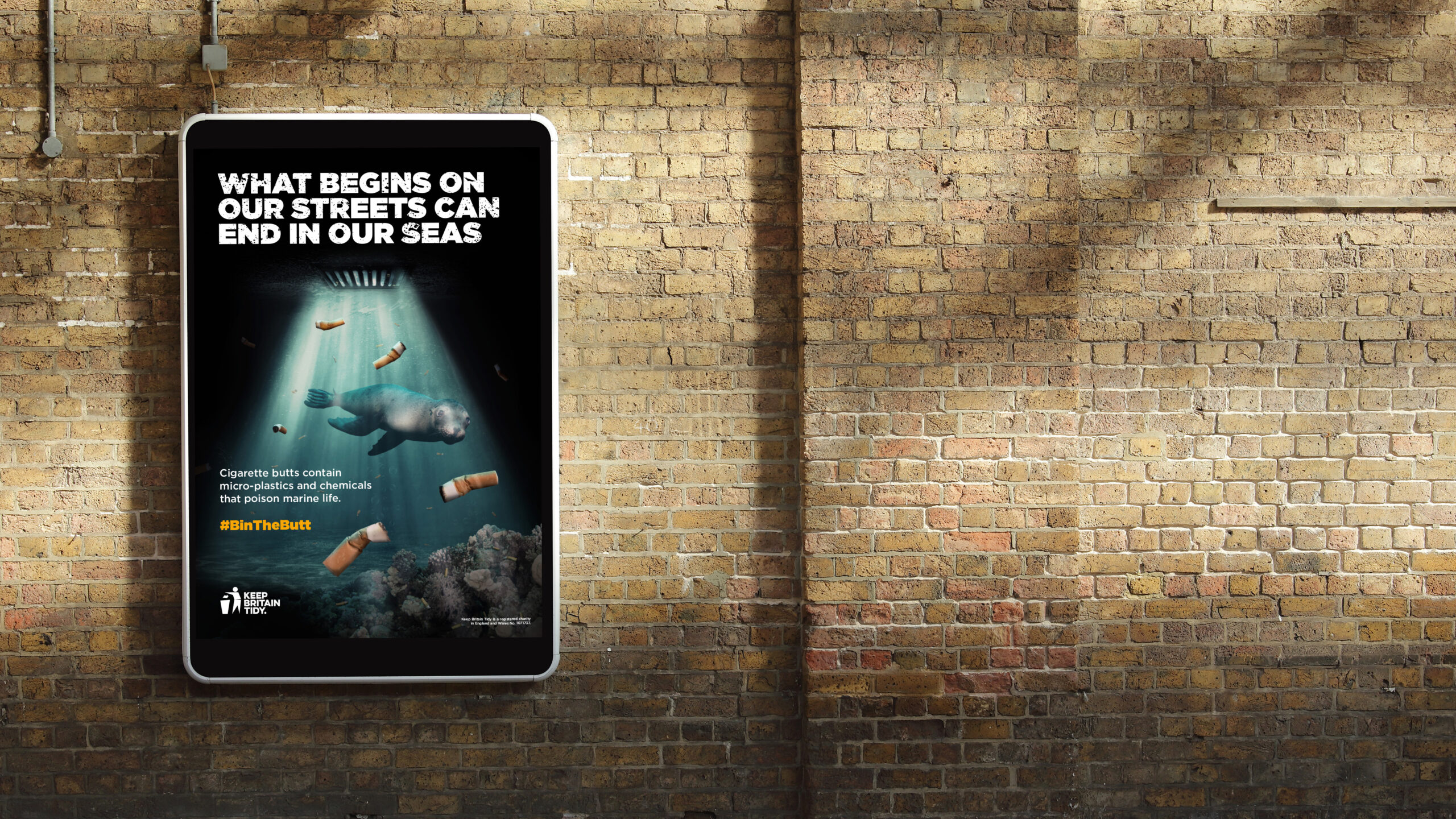 Our proposition
We needed to create a campaign that was not only eye-catching, but hard hitting and emotive. It was necessary within the advertising creative to make a visual connection between cigarette litter dropped on our streets and how it travels to our oceans. Research told us that people living in towns and cities did not realise that many urban storm drains flow unfiltered into streams and rivers which eventually connect to our seas. We therefore decided early in the project that we needed visualise this, creating an 'underworld' scene where the viewer can witness marine life threatened by human behaviour. Threatened with toxic waste, casually discarded and spoiling a beautiful environment.
This was how we stirred emotion and sentiment in the campaign. Creating a dark and unseen environment portrays the realities of how careless human activity is threatening marine life. Shafts of light from the urban world above created a spotlight effect, highlighting the storm drain, marine life and discarded cigarette butts, focusing the viewers attention on the three main symbols of the campaign. We combined this with a conceptual headline message 'FLICKING BLUE MURDER' purposely uppercase and chosen to have dual meaning and shock a viewer at first glance.It was, by design, a melancholy and hard-hitting approach. Artwork was developed across multiple channels including, print, outdoor, motion graphics for social media and a thirty second video ad.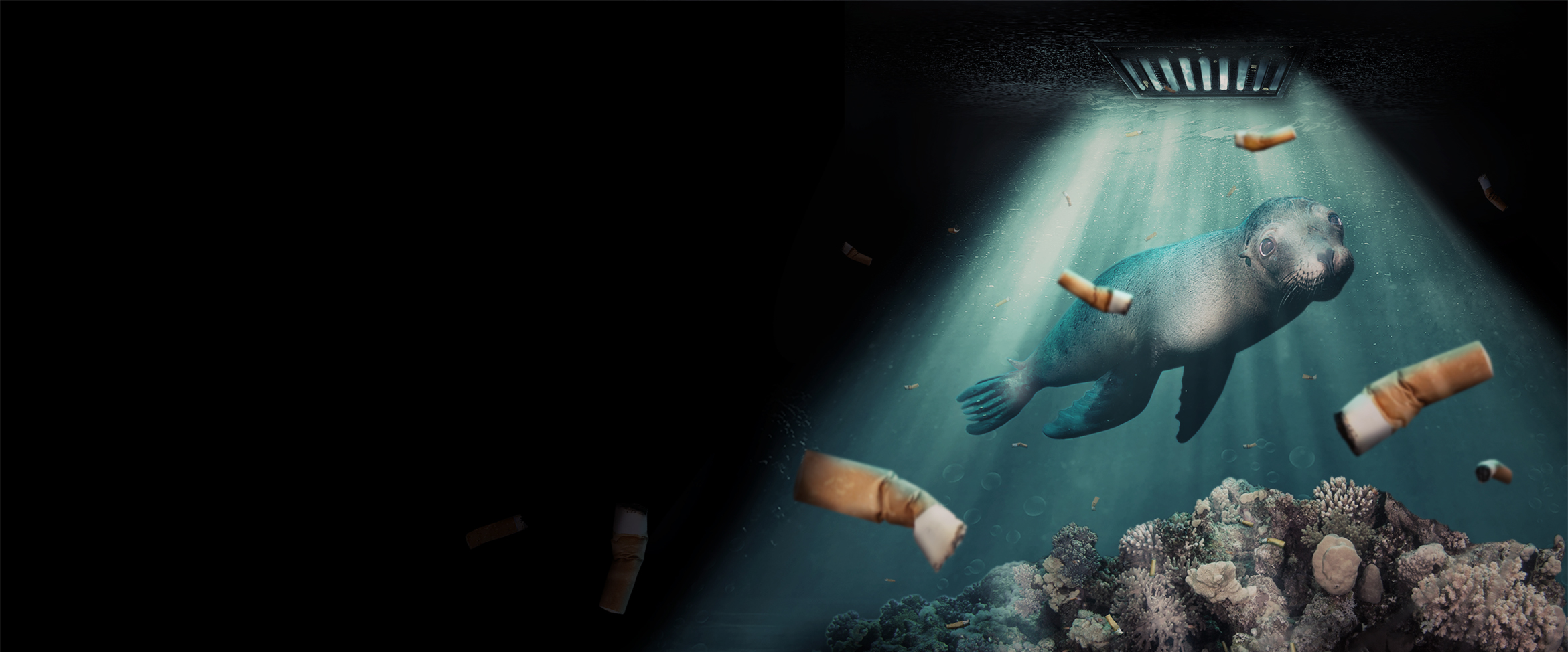 #FlickingBlueMurder is a genius campaign, from an organisation that is doing amazing work, I couldn't be more proud to be part of the @KeepBritainTidy family.

Kirstie Allsopp ‏@KirstieMAllsopp – via twitter