Farrar's Building is an award winning barristers chambers set in the heart of London, they have a wide range of top-rated barristers at all levels of call with a national reputation and a particularly strong following in London and Wales. In order to expand their reach nationally, Farrar's Building required a direct approach using a digital solution and new sub brand, a way for the public to reach out to them online and commission their barristers directly. Out of this need, Farrar's Direct was born.
The brand and website brief
Farrar's Direct wanted to create an online enquiry form with conditional logic, so that they could gather as much information as possible from an enquiry before taking it any further. Due to the complex nature of legal enquiries, the website needed to be simple and easy to use, so that it didn't overwhelm users with complicated information.
Visit Website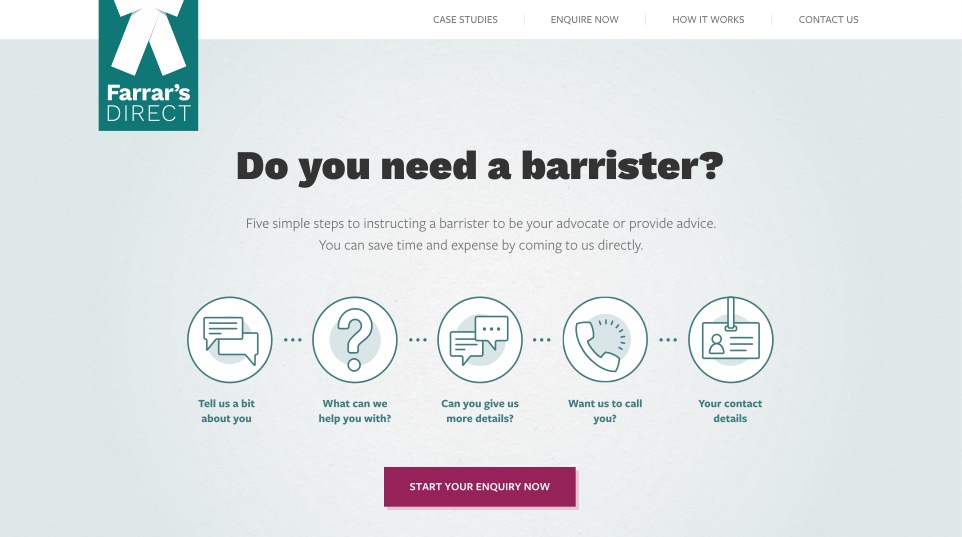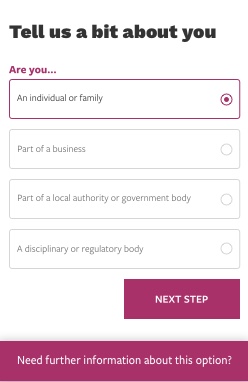 Professional, friendly and approachable
We designed modern, professional branding, with a set of icons to be used throughout the website. The style is bold, colourful and clean, allowing Farrar's Direct to feel friendly and approachable. An icon set is used throughout the website, to allow users to have a visual representation of what section they're in, and also what sections are to be completed, when they are using the enquiry form.
Easily accessible information
We knew a big part of this website development had to keep in mind the user. As not many people ever have to use this service, we understood that the user might not know a lot about a barrister service, or barristers themselves. We had to keep this in mind when creating the website, signpost all the information so the user knew what the service was about. By working on the content of the website, we combatted this by signposting the user with the use of friendly wording and effective typography.
We used questions such as "Do you need a barrister" and "Need help with a legal problem?" so that the user could easily navigate their way around, and find the information they needed. The people visiting this website will be coming to get as much help as they can from professionals, but they need to know how much that will cost them and whether their case needs a barrister or not. By allowing the visitor to click through simple questions and allowing the user to make the choice about whether they want to contact the service in a non confrontational way.
The outcome
The website provides a clear and simple journey to the user – offering information, explaining jargon, and allowing them to enquire about the services offered, whilst providing plenty of information to the barristers.
We're very happy – the colour palette and uncluttered appearance sit very well with what we were hoping for!

Tim Found, Barrister, Farrar's Direct