MediaCityUK (MCUK) is an international hub for technology, innovation and creativity. Home to the likes of the BBC, ITV, Ericsson and complemented by more than 250 smaller media and digital businesses including Carbon Creative. As a focal point for nurturing the best talent and host to a wide variety of leisure activities, MediaCityUK is a vibrant, sustainable destination to work, live and play, on the banks of the Manchester Ship Canal.
Welcome to Box on the Docks.
A unique outdoor dining experience. A piece of impactful public art. Thirty 'boxes' outside of MediaCity's restaurants. Winding through the gardens and along the waterfront. Self-contained dining pods taking the form of sheds and greenhouses, decorated by Salford-based artists and creatives. Team Carbon were invited to submit a concept as part of the design competition to create a box. The outline brief was simple, choose a greenhouse or shed and let your creativity run wild, we were delighted and honoured to have one of designs chosen, our winning design was a quirky tribute to the Manchester music scene that we affectionately called 'The BeatBox'.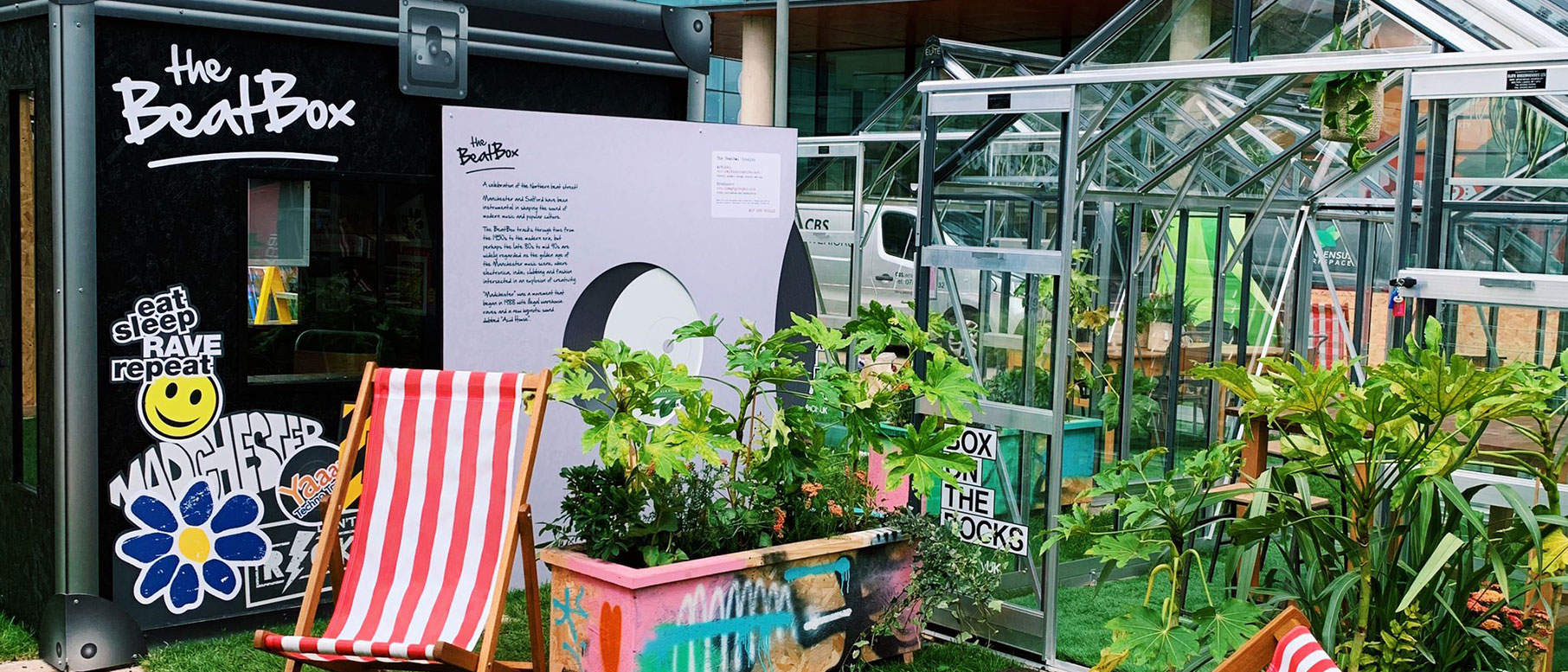 Little idea, big ambition...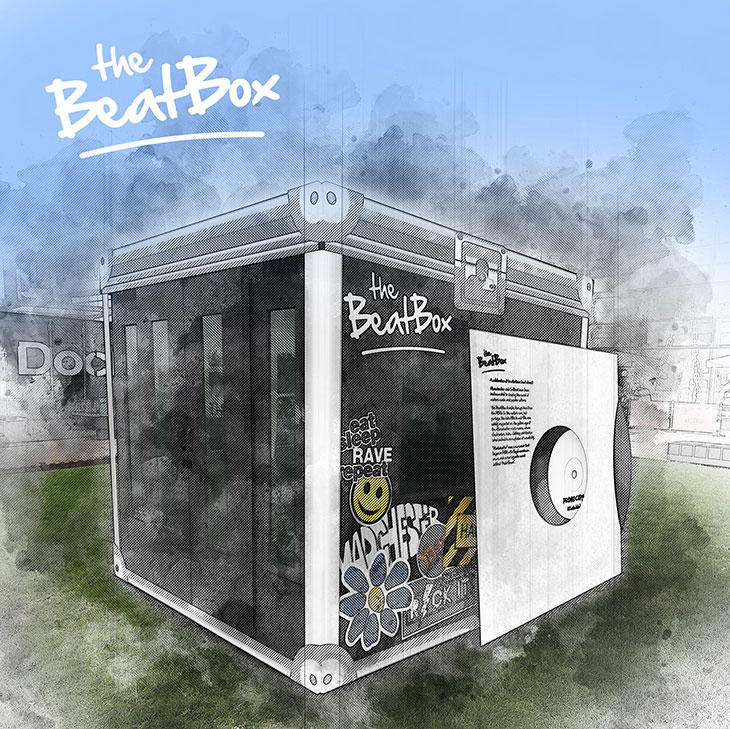 As creatives that live and work in MediaCityUK we love all forms of art, so the Box on the Docks was a perfect opportunity to create something that indulges some of our passions of music, culture and experiential design. Our concept was designed to celebrate the musical history of Greater Manchester and how its artists and cultural movements have influenced the UK and beyond. The BeatBox was created as a musical Tardis.
The outside was a designed as a vinyl record flight case, longing back to when superstar DJ's would carry their treasured vinyl discs into vibrant northern dance clubs. When the visitor walks through the doors, they are greeted by the inside of an independent record store, showcasing music, artist and musicians that put Greater Manchester on the world stage. Tracks through time, the Salford and Manchester music scene.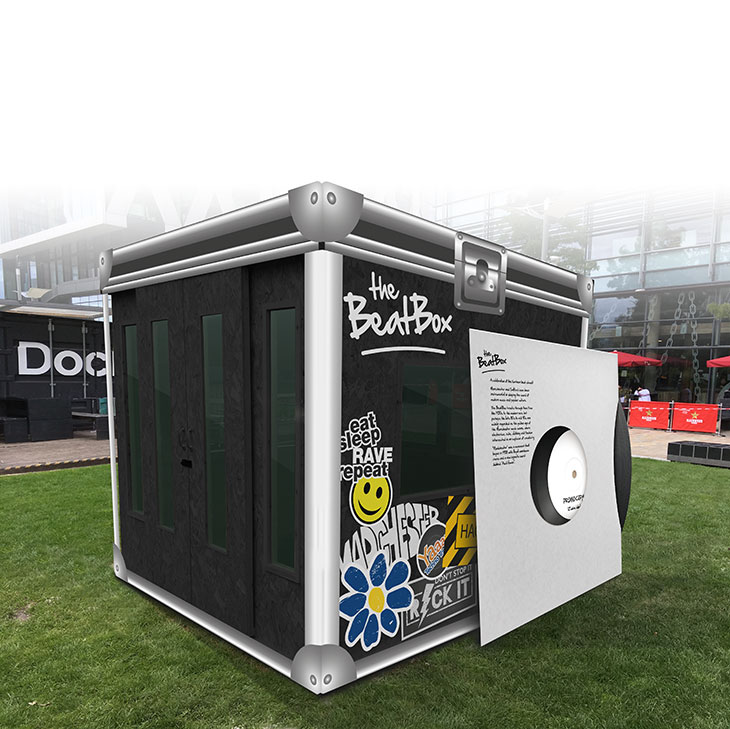 Construction of The BeatBox was helped by our friends and partners at Image Group UK. Our box was provided by MediaCityUK as a bare wood OSB board construction, we painted it matt black, developed the high resolution design and artwork in Adobe Illustrator and set about creating the most cost effective way to dress the box.
We elected to use Dibond (an aluminium composite material used for motorway signs) for the box edged and corners, we felt this would best represent the flight-case steel and chrome. For our DJ stickers we needed something more durable than paper so we went for an environmentally friendly Foamex material, and for the finishing touch, we needed a vinyl record, which was fashioned from three pieces of die-cut Dibond, out finale act, to remind all those millennials where the real music came from 😉
Logo brandmark and messaging...
A celebration of the Northern beat street! Manchester and Salford have been instrumental in shaping the sound of modern music and popular culture. The BeatBox tracks through time from the 1950s to the modern era, but perhaps the late 80s to mid 90s are widely regarded as the golden age of the Manchester music scene, where electronica, indie, clubbing and fashion intersected in an explosion of creativity. "Madchester" was a movement that began in 1988 with illegal warehouse raves and a new hypnotic sound dubbed "Acid House".