Arriva is proud to be one of the leading providers of passenger transport in the UK and Europe. Their diverse range of nationwide and European services deliver more than 2 billion passenger journeys a year. ArrivaClick is a flexible, on-demand minibus service offering quick and convenient transport for multiple passengers heading in the same direction - a bus that's smart enough to come and go, when and where you want it!
A new way forward in travel
With our bright, playful and benefit-led creative winning the initial tender to launch ArrivaClick, the next stage was all about expanding this route into a complete campaign that can work off and online.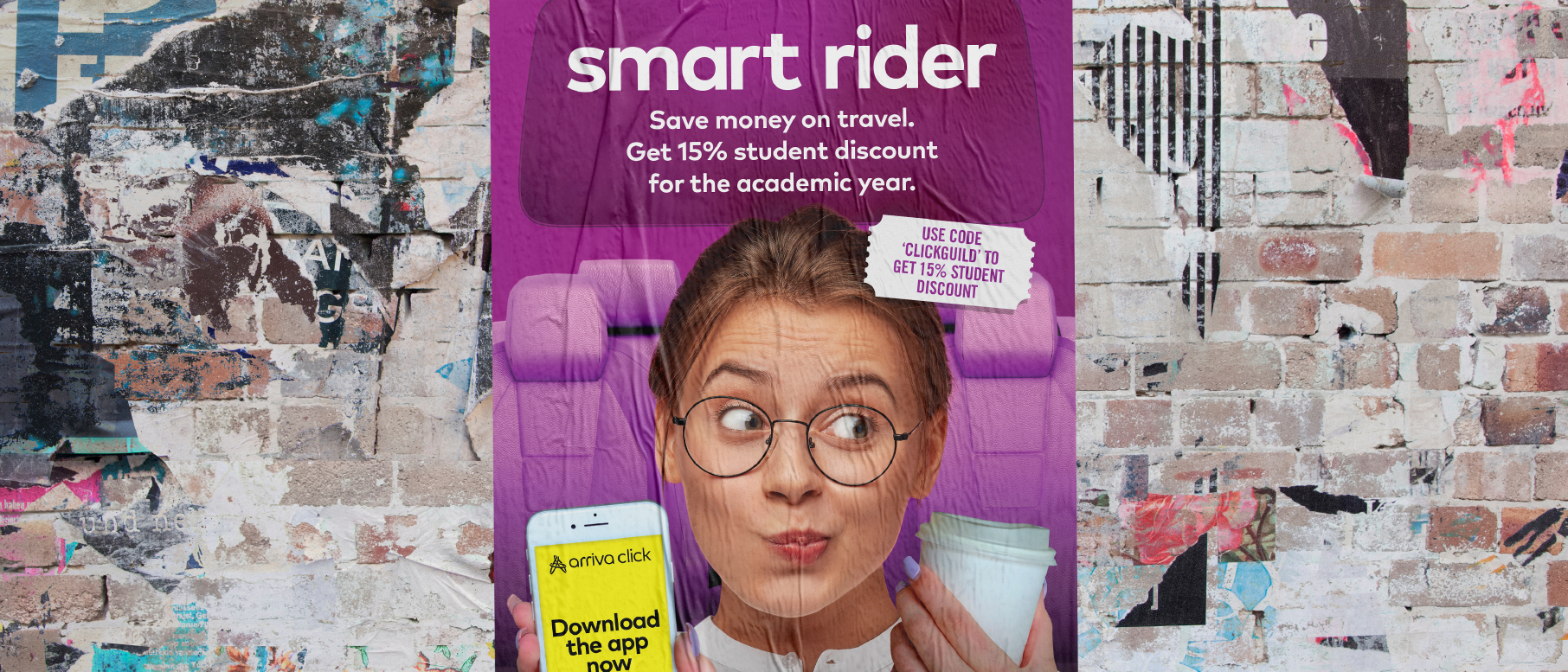 The brief
We wanted to help make Arriva the solution to all travellers' needs - whether it was a practical travel option, a need to be more environmentally friendly, or if they wanted to use ArrivaClick for all of their travel. The brief was simple; to continue with an idea we had put forward in our initial pitch and develop it further. We needed to create 3 executions based on what we had already shared during the tender process. These executions needed to work both on and offline and include; bus supersides, bus rears, student union wall vinyl, OOH static, digital, socialite and an airport 96-sheet billboard. The aim of the campaign was to drive downloads and ridership of the service. To do this, we needed to ensure customers fully understood what the service has to offer. The first location for launch was Liverpool, which has lots of transport providers and services.
Exploring a winning route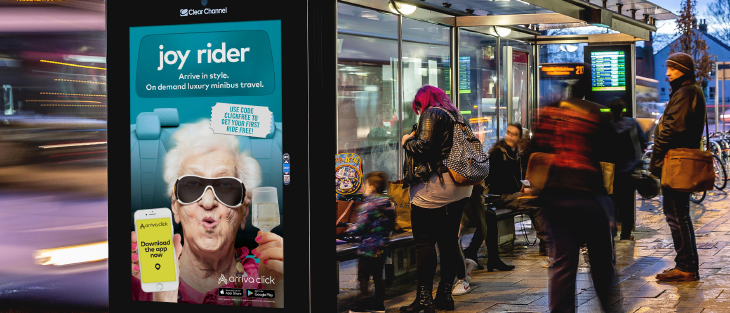 We wanted to create a campaign that would really stand out amongst the rest of the travel marketing noise. We planned to do this by:
Identifying the key features of the service and developing a punchy creative that focussed on emphasising the benefits of using ArrivaClick.

Creating visuals that were 'quirky' and bright, and that looked strong on a large scale 

Using an upbeat tone for the content – we wanted the campaign to be fun, tongue in cheek, quirky, vibrant, friendly, innovative and playful. 

Keeping text on the creative to a minimum.

Showing ArrivaClick's  diverse customer base. 
We found the challenge was creating something that was accessible and 'down to earth', without moving too far from corporate messaging. Arriva has some strong and well-recognised branding; we needed to showcase ArrivaClick as its own new and exciting brand, but disconnect it from Arriva entirely. We saw ArrivaClick as the bolder, newer, younger brother that is breaking free from the limitations!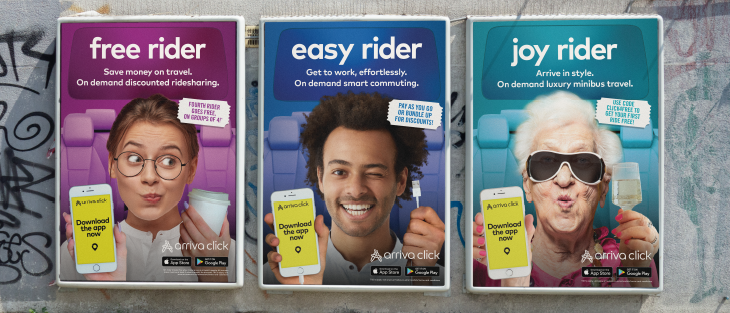 Segmenting the campaign ensured we targeted three key audiences – working commuters, students and OAPs –  but, ultimately, anyone could be a customer.  With this in mind, we tried to be creative with our visuals, showcasing diverse images throughout. Unfortunately, there was no time for a photoshoot and so we had to pull together an inventive mix of stock images, staff hands and a sprinkle of photoshop! 
We kept the headline messaging relevant to the key benefits that would most likely appeal to the 'character' shown. This helped us keep our key audience consistent within the campaign; Easy Riders, Free Riders and Joy Riders.
We did this by:
Creating visuals to show someone using the app so people could immediately understand the Call To Action. 

Using colours that were bold, solid and without apology; the photography was up close, personal and fun. 

Using language that was 'no-nonsense' and easy to understand, balanced with a touch of tongue-in-cheek,  to keep content engaging, personal and memorable.
The outcome
Our bold use of colour, striking headlines and tongue-in-cheek photography came together into a brilliant, successful launch campaign for ArrivaClick. Since then, ArrivaClick has launched their services in Leicester and Watford with plans to continue rolling out its services nationwide.