Rixonway Kitchens are expert in delivering beautifully designed kitchens. As part of Europe's leading manufacturer - Nobia, they have been manufacturing kitchens for supply and fitting to both the private developer sector and social housing providers for over 40 years.
Kitchen manufacturer website design
With a modern manufacturing base in the Northwest and a nationwide delivery network they are renowned in these sectors for their class leading kitchens. This continual pursuit of excellence has been rewarded with international accreditations such as ISO 9001 and one of the highest accolades in the furniture industry; the FIRA Gold award. Sustainability is also a critical part of Rixonway's workflow, reflected in a commitment of environmental obligations for a responsible modern business. Chain of Custody (FSC®/PEFC) certification run alongside policies and strategies to reduce their environmental impact, all of which have ISO14001 certification.
Visit Website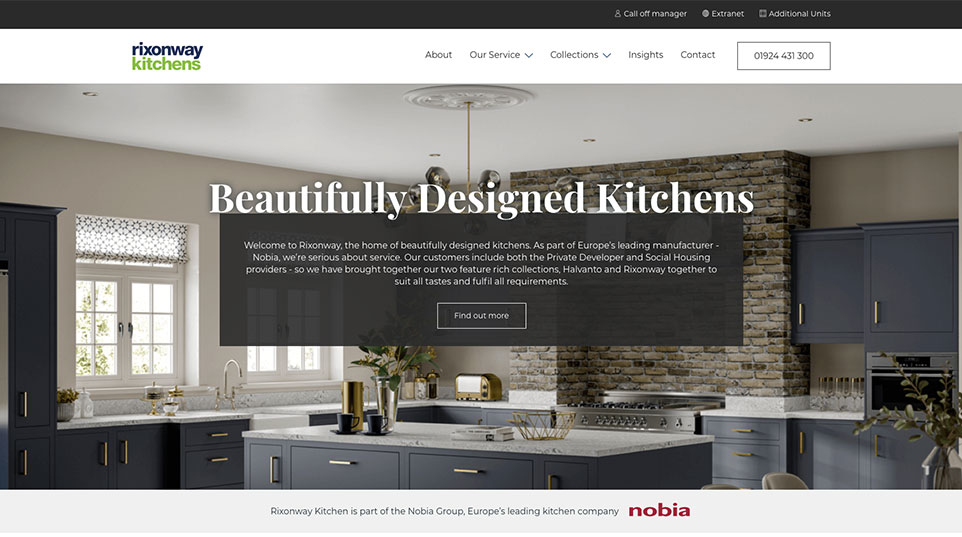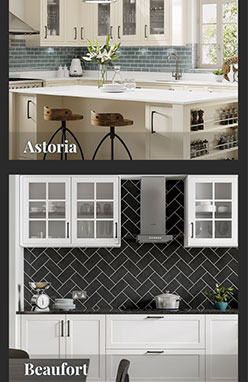 The brief
Rixonway approach us with a current website which was considerably outdated, the site was not mobile compatible and there was no content management system meaning it was difficult for them to perform any updates. They were in need of a website that presented the company as the professional, long-standing and growing organisation that it is, showcased new product photography in a much better way, along side a more detailed narrative about Rixonway's commitment to environmental responsibilities. The website also needed to showcase the different products and services. At present, Rixonway were trading to the Social Housing market predominantly and their sister company, Halvanto was dedicated to the Private Developer market. Rixonway wanted to bring these two companies together under the one name so it was imperative that the website could cater for both of these feature rich collections with clear signposting for the two different audiences.
The style
We wanted to establish a difference between the two primary kitchen collections, Rixonway and Halvanto. We decided to use the simplicity of colour segmentation to achieve this, with a rationale of 'great product range' and 'best product range'.
We opted for a fairly neutral but very distinct colour segmentation, classic black and white. We decided that keeping the website clean and neutral would give the website a modern and fresh feel and would allow the product photography to be the true hero and the design of the website interface complimentary.
Developing the website creative, layouts and colourways with neutrality in mind makes the beautiful kitchen photography pop off the page whilst avoiding any possible colour clashes with the website design and subduing the interface design the user needs it.
The use of the opposing colours also establishes a clear difference between the two collections, an important factor for the different audiences. White for Rixonway (our great product range) and black for Halvanto (our best product range). Essentially one that is great and affordable and one that is best in class, professional and premium.
The Outcome
Rixonway now have a refreshed new website which houses both collections in one place yet is still easy to navigate. Their new website is clean, professional and provides customers current and new with a wide variety of kitchen styles and ideas to choose from. The website is now fully mobile device responsive and well structured, load sped of pages has been improved along with onsite SEO and copy writing, improving their performance in Google search. The website is now fully content managed, so Rixonway have been able to take full control and ownership of the website products, services and general content.