Some handy tips about what you need to include!
Firstly what is a cookie?
They are simple 'text files' which you can read using the Notebook program on your own PC. Typically, they contain two pieces of information: a site name and unique user ID.
More information can be found on the BBC Web Wise page.
To find out the Cookie used on a website you can click the padlock in the URL box in Chrome.
First of all use the dropdown arrows to open all the information and highlight each cookie and click remove. Once all these have been removed, close the dialogue box and refresh the page. Then open up the cookie window again. This will flush out any old unused cookie information and then show you the real time cookies used.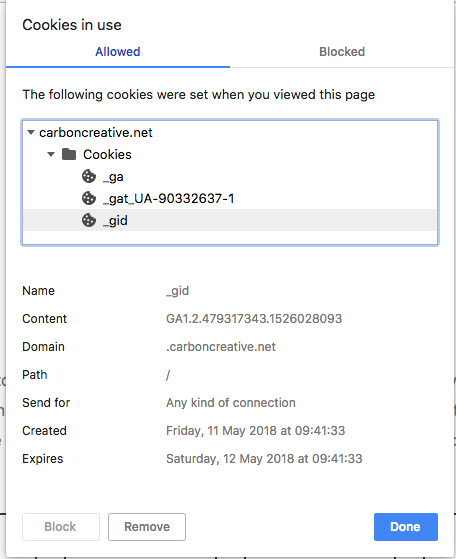 In the example provided, we have 3 cookies running and these are for Google Analytics (_ga, _gat, _gid)
For the propose of your Cookie policy what these things are doing are storing session information for the purposes of improving the user experience of the site. Google analytics is very widely used so they have some more advice on what each cookie does on their website.
Data Collection via forms
If you have a contact form on your website you have a duty of care for your customers to handle their data correctly. This data is stored on your website under forms & entries, and can be exported and deleted. We would recommend having a regular schedule for deleting this data. If you are storing or parsing data in to a Customer Relationship Management program, you should also explicitly state this as well as give your users the option to not be contacted by you after their initial submission.
If you are using a Email Marketing program such as Mail Chimp, you can find out more information & advice about segmenting mailing lists and the opt-in options & requirements.
The new GDPR are fundamentally focused on the ethics around the protection of peoples information and we believe that protecting the rights of website users is only a good thing 🙂